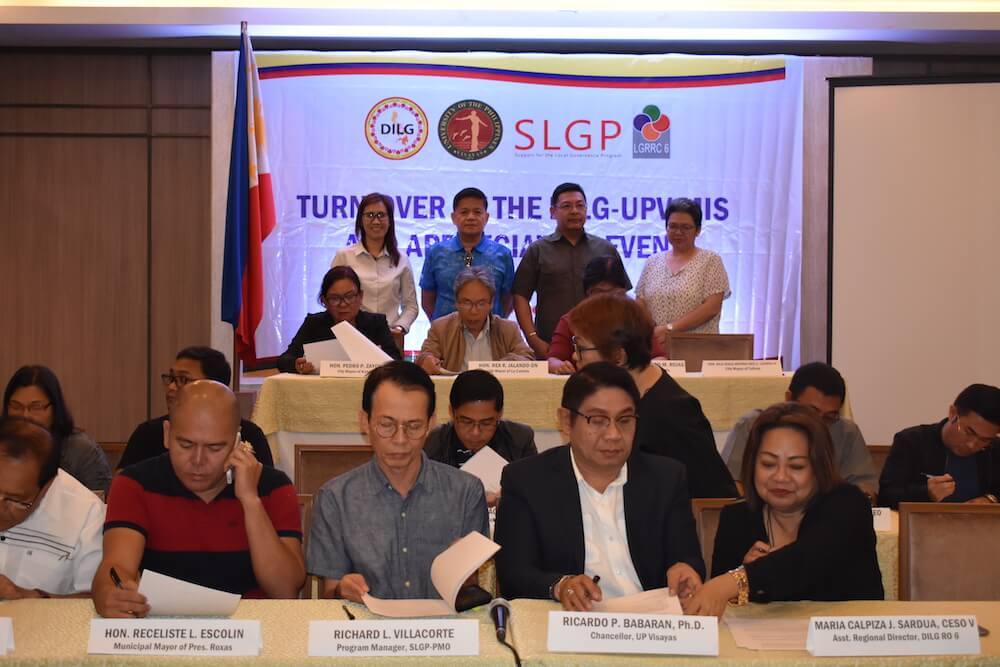 The University of the Philippines Visayas project team turned over the Management Information System for Comprehensive Development Plan (MIS for CDP) to the Dept. of the Interior and Local Government (DILG) on January 31, 2020 at Smalville21 Hotel, Iloilo City. The MIS is part of the DILG-funded "SUC-Assisted Approach in CDP Formulation Project" which is implemented with twenty (20) partner Local Government Units (LGUs) in Region 6. The UPV Project Team is under the Office of Continuing Education and Pahinungod (OCEP).
The event was participated in by the local chief executives and representatives of the 20 LGUs in the 4 provinces of Western Visayas (Region 6) namely Iloilo, Capiz, Antique and Negros Occidental. Learning Resource Institutes that are members of the Local Governance Regional Resource Center (LGRRC) in the region also attended the event. In attendance were representatives from Capiz State University (CAPSU), Aklan State University (ASU), Iloilo Science and Technology University (ISAT-U), Central Philippine University (CPU), University of Antique (UA), and Carlos Hilado Memorial State College (CHMSC). Representatives from National Economic and Development Authority (NEDA), and the Department of Budget and Management (DBM are also in attendance.
Ms. Mari Calpiza J. Sardua, DILG R6 Assistant Regional Director, delivered the welcome remarks.
In his message, Mr. Richard Villacorte, Program Manager of the Support to Local Government Program (SLGP) emphasized the importance of planning for Local Government Units (LGUs).
The Management Information System (MIS) will aid local planning teams in the formulation of the town's Ecological Profile, Sectoral Plans, and the Local Development Investment Program (LDIP) using DILG's Rationalized Planning Indicators and Data Sets (RaPIDS). The MIS will make data storage and archiving easier while also taking tabs of the development of the municipalities development plans in years.
A ceremonial Memorandum of Agreement (MOA) signing was also done with the representatives of UP Visayas, DILG and 20 partner LGUs.
Participants from the 20 LGUs who have attended at least 75% of the training workshops conducted by UPV and DILG from April 2018 to September 2019 were also given a certificate of completion. A total of one hundred nineteen (119) or 25% of the local planning team members have commendable attendance. These are the planning teams of Anilao, Banate, Carles, San Enrique and Sara of Iloilo Province; President Roxas of Capiz Province; Barbaza, Bugasong, Culasi, Hamtic, Pandan, Tibiao of Antique Province; Calatrava, Candoni, Hinigaran,Isabela, Kabankalan, La Carlota, Murcia and Talisay of Negros Occidental Province. DILG's cluster leaders and Municipal Local Government Operations Officer (MLGOOs) who have commendable attendance to the training workshops were also given recognition during the appreciation event.