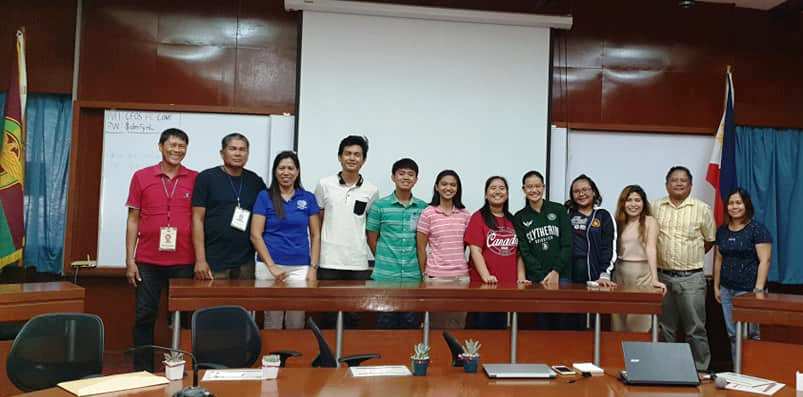 "The little learning you have in this SIP (science immersion program) will be useful in your future. Apply whatever experiences you had from UPV in your research and in your classroom. I wish to see you all in the science program in UPV or in any UP campuses and become contributors to science in the country," National Academy of Science and Technology Outstanding Young Scientist awardee Prof. Nathaniel C. Añasco told the students of the country's premier science high school at the culminating activity of their 14-day immersion at the College of Fisheries and Ocean Sciences (CFOS), UP Visayas (UPV), Miagao campus on July 22, 2019.
Añasco, who is also the director of the Institute of Marine Fisheries and Oceanology (IMFO), CFOS, encouraged the incoming Grade 10 students of the Philippine Science High School (Pisay)- Western Visayas campus to do research in marine sciences whether or not they will pursue a career in fisheries.  Añasco is an expert in marine and ecotoxicology, marine chemistry, fisheries biology, water quality, aquatic ecotoxicology, and bioaccumulation.
The Pisay students completed their 80 hours SIP at IMFO. The immersion program started on July 8, 2019 and culminated on July 22, 2019.
The SIP sought to enable the students to develop science research laboratory skills and help identify and formulate research problems for their research undertaking next year. It also provided opportunity for the students to interact with the researchers/scientists of the University, particularly of IMFO.
Speaking in behalf of her peers at the closing program, Ms. Rohanne Mionette del Castillo expressed her gratitude to the institution for accommodating their group. She said that their experiences helped them to understand marine fisheries, which can be useful in their future research work.
The students were provided with lectures on fishing technologies, planktology, water and sediment analyses, marine ecosystems, ecotoxicology and histology. IMFO faculty members and researchers made sure that each topic had a corresponding laboratory activity. They had also a chance to conduct assessment of mangroves, seagrasses and beach forests at Nogas Island, Anini-y, Antique.
Ms. Ma. Shirley M. Golez, university research associate (URA) II of IMFO, introduced to the students the biology of diwal or angel wing clams, a highly seasonal shellfish in the country that can be found in the waters of Aklan, Capiz and Negros. They had a first-hand experience in the transport, feeding and histology of diwal.
The students presented the reports of their daily activities, data gathered and the interpretation of these data during the culminating activity.