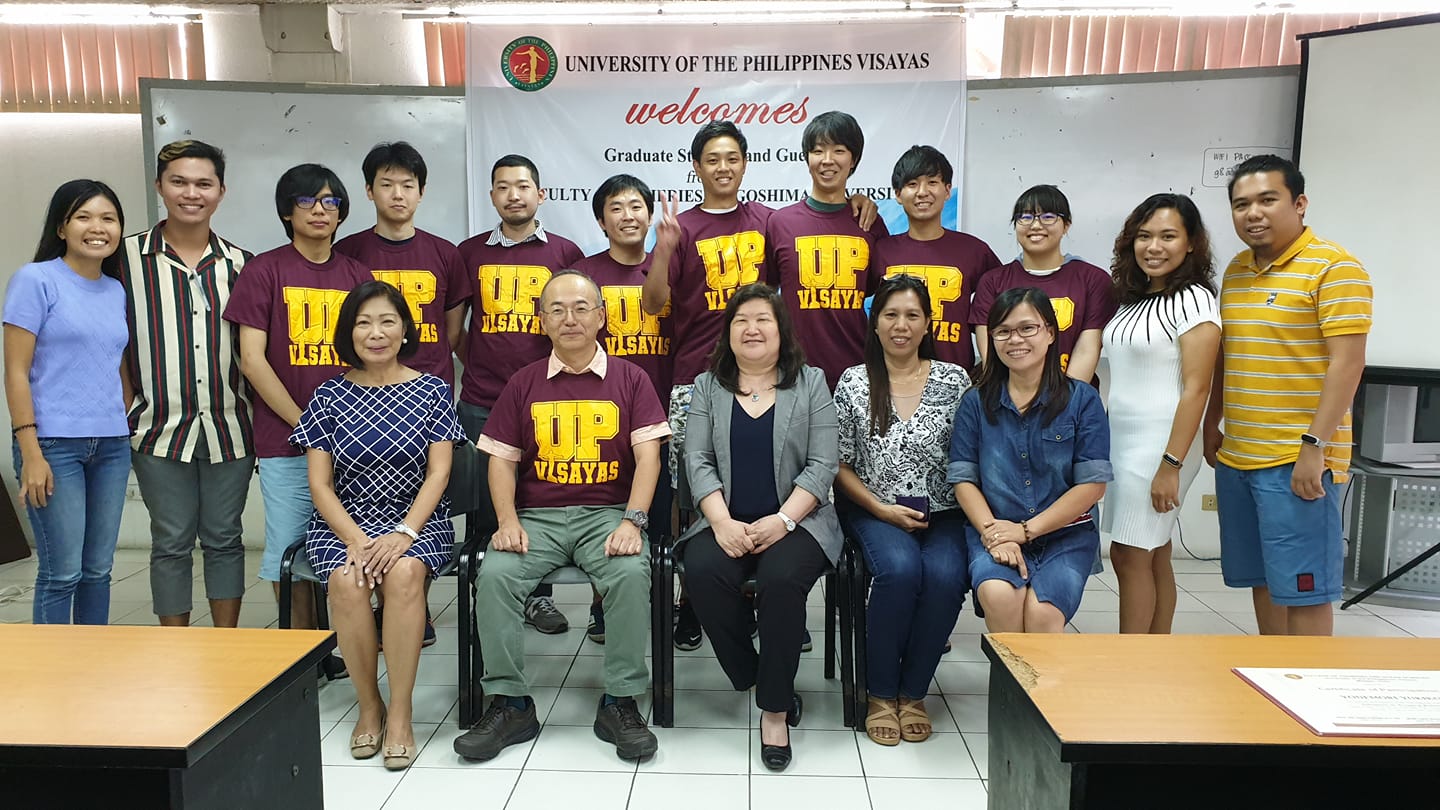 "We will not forget the experiences we had here. We will make use of them when we go back to Japan," said Sugiyama Daisuke speaking in behalf of his peers at the closing program of the Training on Advances in Tropical Fisheries on July 11, 2019 at the Graduate and Continuing Education Building, UP Visayas (UPV), Iloilo City campus.
Daisuke was one of the eight (8) Master of Science (M.Sci.) graduate students of the Faculty of Fisheries, Kagoshima University (KUFF), Japan who participated in the 12-day training conducted by UPV, through the College of Fisheries and Ocean Sciences (CFOS) from July 1-12, 2019.
Daisuke said that they really appreciated the training for they learned not only about fisheries in the Philippines but also the importance of cross cultural understanding. It was learned that Daisuke, together with two other companions, was no longer new to the campus as he had attended language training conducted by the university.
Aimed to give the participants an overview of the current status of fisheries and aquaculture in the Philippines, the training provided the Japanese students opportunity to hear lectures from experts in the field. Lecture topics included overview of aquaculture, capture fisheries, fish processing, and fish marketing in the Philippines as well as the political, social, economic situation, science, and education in the country.
With the assistance of selected CFOS graduate students, the participants conducted brief studies of their respective fields of interest in the city and province of Iloilo. They presented the results of their studies during the culminating activity.
Prof. Munechika Ishizaki of KUFF who brought along the students to UPV, appreciated the people behind the success of the training. He was grateful that the training went smoothly and concluded on a high note.
CFOS dean Prof. Encarnacion Emilia S. Yap, on the other hand, hoped for more exchanges and collaboration with Kagoshima University. The partnership between UPV, through CFOS and the KUFF started even before the collaboration of the latter with the UP System, said Yap.
The dean also noted that a number of the College's faculty members including UPV Chancellor Ricardo P. Babaran obtained their PhDs from the said university.
For 13 years, the training catered to more or less 236 students of KUFF since its implementation in 2007.
Prof. Erlinda C. Lacierda, faculty member of the Institute of Aquaculture, CFOS was the training coordinator. Together with the training staff and the selected CFOS graduate students, the student participants had a field trip to Taklong Island Natural Reserve of UPV and the Igang Marine Station of SEAFDEC-AQD in the Province of Guimaras, the SEAFDEC-AQD main office in Tigbauan, Iloilo and UPV main campus in Miagao, Iloilo. They also visited the Iloilo Fish Port and the JICA Office in Makati City, Metro Manila.