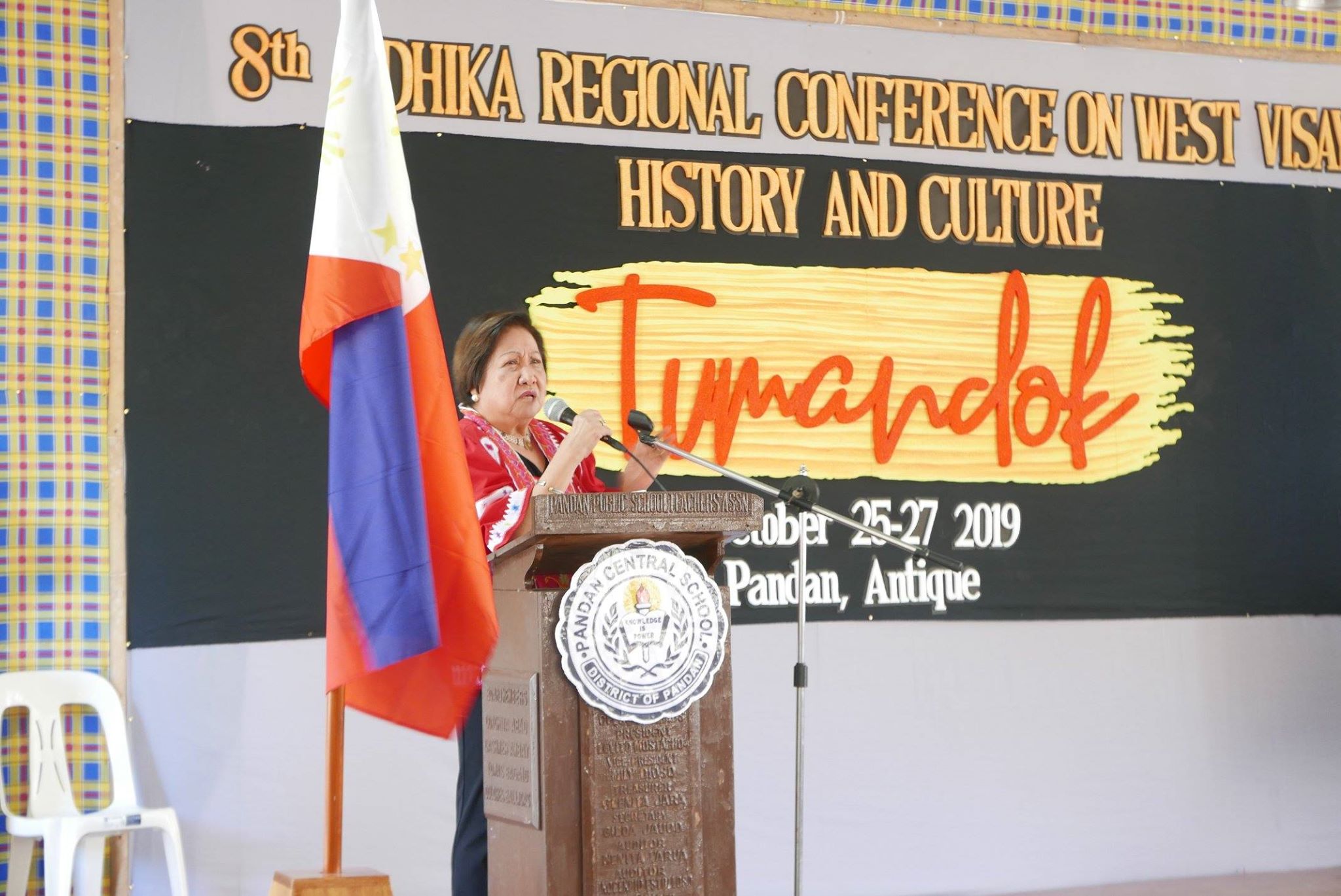 The Indigenous Peoples Resource Hub of the Center for West Visayan Studies (CWVS), College of Arts and Sciences partnered with the Asosasyon ng mga Dalubhasa, may Hilig at Interes sa Kasaysayan (ADHIKA) – Iloilo Balangay in organizing the 8th Regional Conference on West Visayan History and Culture on 25-27 October 2019 at Pandan Central School, Pandan, Antique. In line with the celebration of Indigenous Peoples' Month, the conference' theme was, "Tumandok: Integrating Indigenous Knowledge Systems and Practices (IKSP) to Pedagogy and Praxis towards Inclusive and Contextualized Social Science/Studies/History Education."
The three-day conference revolved on lecture-presentations on the various approaches, techniques, and strategies in integrating indigenous knowledge systems and practices (IKSP) of Western Visayas to pedagogy and praxis directed towards inclusive and contextualized social science/studies and history education. It also generated paradigms and perspectives drawn and constructed from worldviews and experiences of indigenous peoples/communities. These are vital in empowering the localization of knowledge while at the same time strengthening diverse cultural identities. Employing the local term tumandok as an encompassing discourse, which amplifies the sense of place and belongingness, this gathering of educators, scholars, researchers, cultural workers, and students also provided a fitting platform in documenting IKSP in its multiplicity of pedagogical and practical modalities and applications. More so, it incorporated indigenous cultural elements to curriculum and instruction.
Seventeen research papers were presented in the conference. The Ati indigenous group of Anilao, Iloilo and the Teatro Antiqueňo of University of Antique highlighted the richness of Panay's culture and tradition through literary-musical performances. A visit to various ecological tourism sites in Pandan was also a part of the three-day event and became an added interest to participants.
Participants in the conference were Social Studies teachers from public elementary and secondary schools of the Department of Education – Division of Antique, and higher educational institutions in the region such as Northwestern Visayan Colleges – Kalibo, Aklan, Guimaras State College, University of Antique, West Visayas State University, Iloilo Science and Technology University, University of the Philippines Visayas and University of St. La Salle -Bacolod City. College students, culture enthusiasts, non-government organizations, and local government units also participated.
The Conference was sponsored by the Office of Deputy Speaker Loren Legarda, the National Commission for Culture and the Arts, and the Local Government Unit of Pandan.