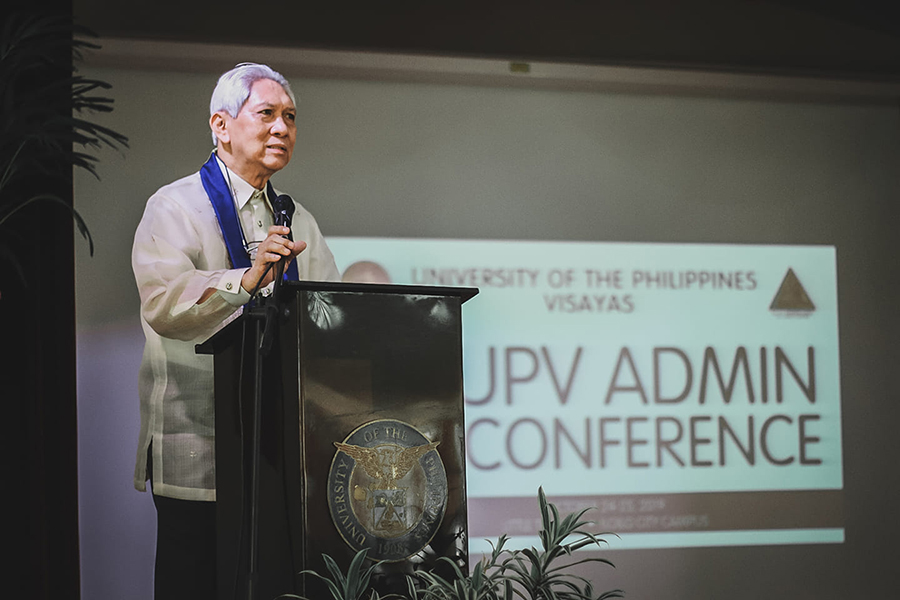 "Do good, do not cheat and steal, treat everyone fairly and equally, serve with honesty, integrity and dedication. But above all, fear God," says Ombudsman Samuel R. Martires, keynote speaker of the 1st UP Visayas Administrative Conference held on Oct 24-25, 2019, UPV Iloilo City campus.
Martires was the most appropriate speaker to talk on RA 6713, known as the "Code of Conduct and Ethical Standards for Public Officials and Employees," which he said is "our moral compass."
Before being appointed Ombudsman of the Republic of the Philippines on March 2, 2017, Martires was a former Associate Justice of the Supreme Court of the Philippines. He also served as Associate Justice of the Sandiganbayan.
In addition to the keynote address, the UPV administrative staff and officials also heard from the following lecturers on:
1. "Quality Management System (QMS) Innovations and Excellence in Public Service Delivery" - Mr. Paul B. Bagatsing, President, SOCOTEC Certification Int'l., Philippines;
2. "Strengthening Employee Development Program "Master your Own Reinvention as a Public Servant" -  Ms. Florida M. Dijan, Asst. Sec. for HRD, DILG;
3."Enhancing Health and Wellness & Enjoying the Workplace: "Improvise, Adapt and Innovate" - Dr. Anselmo T. Tronco, Chair, Department of Psychiatry and Behavioral Science UP Philippine General Hospital;
4. "Climate Change Disaster Risk Reduction: "Management and Employee Protection at Work and at Home" - Dr. Alfredo Mahar Francisco A. Lagmay, Executive Director, UP NOAH Resilience Institute; and
5. "Driving Personal and Organizational Excellence thru PRIME-HRM" - Atty. Rodolfo B. Encajonado, Director IV, Civil Service Commission.
"This is a major step forward in providing a better quality of service for UPV's external and internal publics," says Dr. Ricardo P. Babara, UPV Chancellor at the start of the program.
UP Vice-President for Administration, Prof. Nestor G. Yunque, is hopeful that the conference will help UPV to further improve the quality of its services and its operational efficiency, such as, "meeting our objectives with the least possible cost."
On her part, Vice-Chancellor for Administration, Prof. Mary Ann T. Gumban said that, "This very first UPV Administrative Conference is an affirmation of the role that the administrative personnel take on in the University, that is being the backbone of this institution."
The 1st UPV Administrative Conference was organized by UP Visayas in coordination with the All UP Workers Union – Iloilo Chapter and was supported by the UP System.
More photos here: https://www.facebook.com/U.P.Visayas.Official