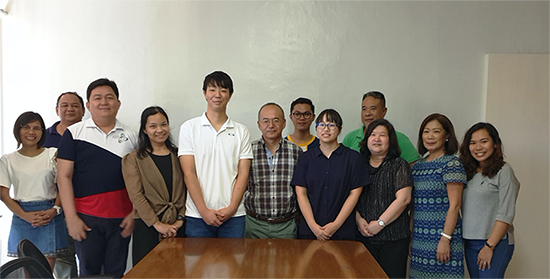 Prof. Encarnacion Emilia S. Yap, dean of the College of Fisheries and Ocean Sciences (CFOS), UP Visayas (UPV) welcomed the graduate students of Kagoshima University, Japan on October 21, 2019 for a 40-day exchange student program.
Toru Sugie and Yukiko Yonemori of the Graduate School of Agriculture, Forestry and Fisheries of Kagoshima University are enrolled in two subjects at CFOS as part of the Postgraduate (Masters) Programme on Tropical Fisheries with International Linkage that is being implemented by UPV through the CFOS.
Sugie and Yonemori will attend lectures, hands-on laboratory classes and field trips related to fish ecology and special topics under the supervision of Asso. Prof. Dr. Erlinda C. Lacierda, Asso. Prof. Dr. Nathaniel C. Añasco, Asst. Prof. Dr. Iris Ann G. Borlongan and Mr. Dominique P. Mediodia.
At the end of the program, the students are expected to conduct and present a mini research including their learnings from UPV. More so, they will be credited with six-unit grade.
The training course runs from October 18 until November 28, 2019 at the CFOS, UPV, Miagao campus.
Sugie and Yonemori are the fifth batch of KU graduate students to be mentored by the faculty members of the CFOS when the international linkage program (ILP) on tropical fisheries started in 2015.
The two also participated in the 12-day Training on Advances in Tropical Fisheries conducted by CFOS last July 1-12, 2019.
The ILP is a collaboration between seven member schools in the Southeast Asian region and Japan that implement the internationalized post-graduate program on tropical fisheries.
The program allows students from the member school to enroll, attend classes and be mentored by the faculty members of the collaborating schools particularly from the UPV-CFOS, Philippines; Sam Ratulangi University, Republic of Indonesia; Kasetsart University, Kingdom of Thailand; Universiti Malaysia Terengganu, Malaysia; Kagoshima University, Japan; Nha Trang University, Vietnam; and Bogor Agricultural University, Malaysia.
Two graduate students of the CFOS participated in the 2019 Summer Session of Kagoshima University (KU) in Kagoshima, Japan from August 17 - September 25, 2019.