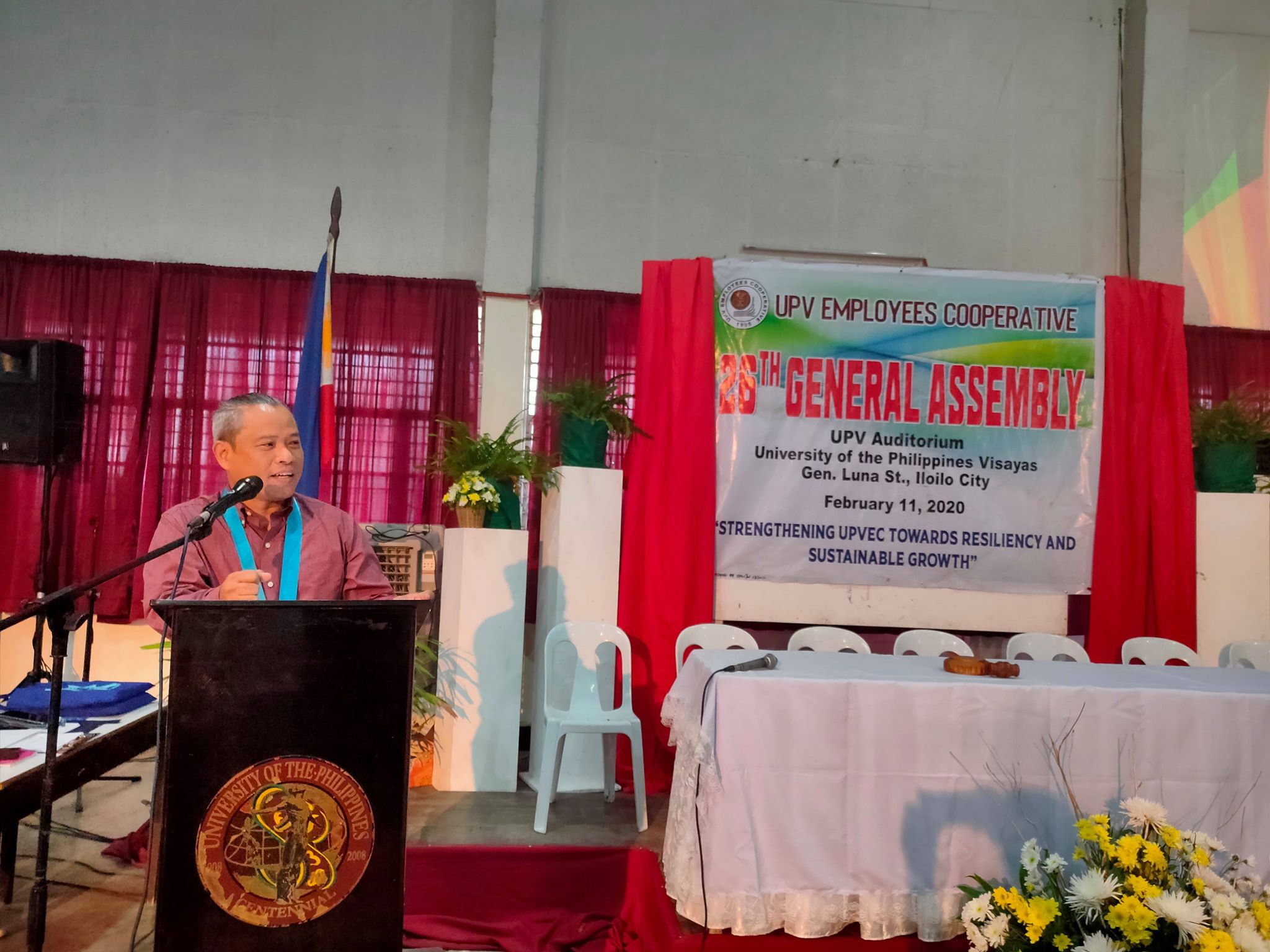 "We have this culture of spending rather than saving and investing our money," said Dr. Glenn N. Baticados, featured speaker of the 26th General Assembly of the UP Visayas Employees Cooperative held on February 11, 2020 at the UPV auditorium, Iloilo City.
 Baticados is a faculty member of the UP Los Baños College of Economics and Management and the Director of its Technology Transfer and Business Development Office. He shared insights on how to be resilient entrepreneur in this day and age by saying that it starts with being a resilient person.
 "To have resilience means to never give up even when things get tough, even when there is no guarantee of success. This starts with having a (tough) mindset because mindset is everything," he said.
 He pointed out that to build a mindset of resiliency, we need to make use of information intentionally and on a long-term basis. For example, we need to delay instant gratification with how we spend our money but must find ways to invest it instead.
 "We need to keep on exerting effort because it ignites our ability to do things.  We also need to surround ourselves with the right people who inspires us and empowers us," he added.
 During the general assembly, the result of the election of the new set of UPVEC Board of Directors and officers were also presented. For the Board of Directors, they are as follows: 1.) ANDRADA, ZOILO JR.; 2.) LOZADA, EMELIZA; 3.) ONGO, MAUREEN KAY; and 4.) SAMSON, NATHANIEL.
 For the Audit and Inventory Committee: 1.) ACOSA, JENELIE; 2.) CAMAYMAYAN, GENE ANN; 3.) LEGASPI, ENRIQUE III; 4.) MONSALE, JESSIE; and 5.) TITULAR, ARMIDA.
 For the Election Committee: 1.) CAYANAN, ROTSEN; 2.) FERRARIS, MARITESS; and 3.) NOVILLA, FERMAR,
 The UPVEC general assembly is one of the most looked-forward events of the UPV employees. They get updates on the cooperative's financial reports, investments future programs and projects.