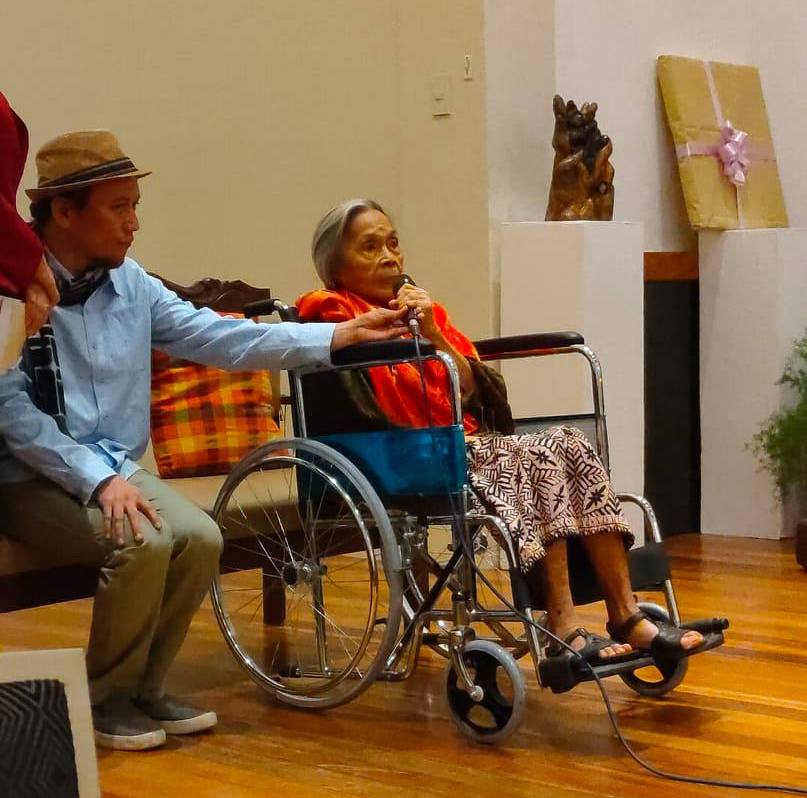 UP Visayas' first Chancellor was honored in commemoration of her 100th birthday in time for  the celebration of the 73rd Anniversary of the UP Presence in Iloilo. A special "Dinner for a Cause" to  celebrate the centenary of Dr. Dionisia Rola was held at the UPV Main Building (old Iloilo City Hall) on Feb. 27, 2020.
The proceeds of the dinner is intended for an endowment fund for faculty, staff and students.
Dr. Dionisia A. Rola Born on November 1, 1920 at Los Baños, Laguna. She finished her BS in Education, Magna Cum Laude, 1947, UP Diliman and University of Melbourne (MA English, With Honors, 1952) and the University of Chicago (PhD English, 1960). She belongs to the first batch of Australian Government Scholars from the Philippines (1950-1952). In 1965, she was named Rockefeller Postdoctoral Fellow at Columbia University .
Her Career in the academe started in 1945 as a Classroom Teacher at UP (teaching assistant). She served as English and Comparative Literature Department Chair  at UP Diliman and  was Dean  of UP Baguio. She started her long-held love affair with UP Iloilo College in 1947 when she taught English and became its dean thereafter.
Dr. Rola became the 1st Chancellor of UP in the Visayas (June 26, 1980 – April 30, 1970) and the 1st female Chancellor among the UP system's constituent universities. Previous to this, she helped oversee the early years of what is now UP Pampanga.
Dr. Dionisia A. Rola, being the 1st first Chancellor of UPV, is believed and agreed upon my many, that it was her vision, commitment and dedication, along with a group of likeminded individuals, that transformed the UP Iloilo into a full-fledged University. 
When she became the Dean of UP College Iloilo, she led the groundwork for the College to be elevated to the University of the Philippines in the Visayas. This included, among others, the long and tedious process of site acquisition for a bigger campus, facilitating loans (IMF World Bank), lobbying funds from the national budget, overseeing the construction of the Miagao campus, and strengthening of academic programs.
As Chancellor of UPV from June 26, 1980 to April 30, 1987, her administration focused on fast tracking the development of the UPV Miagao campus and strengthening the existing programs of the University.
She established the supra-college organizational structure of UPV that included the supra-college service units, academic and administrative support offices (Registrar's Office, Budget Services, Extension Services and Continuing Education, Library, Cash, Property, Physical Plant, Security, Administrative and General Services, and Health Services). She also created a Graduate Program Office. She came up with the Five-Year Development Plan for UPV (1985 – 1989) to give directions, and established clearly defined goals for the University
Dr. Rola worked for the integration of the UP Cebu College and UP Tacloban College under the UPV administration in 1986 and likewise worked for the establishment of the School of Technology and Environmental Resources now the School of Technology
Dr. Rola is one of the pioneer incorporators of the UPV Foundation Incorporated, a non-stock non-profit organization, an institution that helps mobilize resources in support of UPV's academic development. Currently, it has a fund balance of P47M coming from donations and fund grants from research.
Dr. Rola also bequeathed to UP Visayas a large collection of art pieces that would fill UPV's gallery.  Works by artists Arturo Luz, Jose Joya, Malang, Romulo Olazo, Lito Carating, Manuel Rodriguez, Botong Francisco, Nelfa Querubin, Rock Drilon, Jonah Salvosa, Ed Defensor, Darnay Demetillo, Virginia Flor Agbayani, Donato Sermeno, and Fred Orig were among those included in the lot.
In 2019, Dr. Rola turned over some more of her art possessions to the University. They consisted of works by Jose Joya, Ang Kiu Kok, Solomon Saprid, Manuel Baldemor, Malang, Nelfa Querubin, and Nelson Ferraris, as well as some old stoneware and porcelain jars.
Long retired from UPV, Dr. Rola continues in her mission and passion to foster and strengthen its academic development by continuously establishing linkages   that would redound to the University's development. (With sources from Lyncen Fernandez)