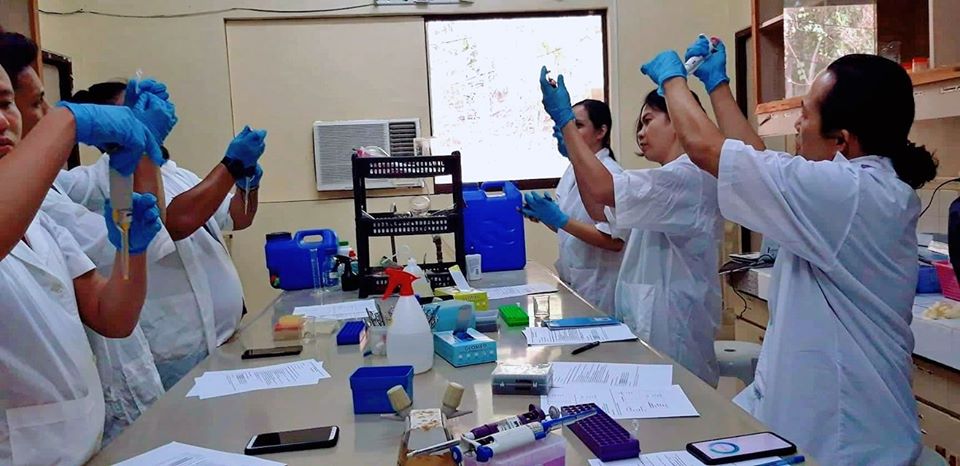 The Institute of Aquaculture, College of Fisheries and Ocean Sciences (CFOS-IA), UP Visayas conducted a national training on the "Application of Molecular Techniques on Fish Larval Biodiversity in Inland Aquatic Ecosystems for State Universities and Colleges (SUCs)" last February 7-9, 2020 at the Wet Laboratories of the CFOS, UPV Miagao campus.
The training was aimed to develop the capability of faculty members in research specifically in the documentation of fish biodiversity in inland aquatic ecosystems towards achieving a sustainable inland fisheries and aquaculture. These ecosystems are considered as biodiversity hotspots and nursery grounds of commercially and ecologically important aquatic species.
Eight (8) faculty members and researchers from the University of Antique, Province of Antique;  Zamboanga State College of Marine Sciences and Technology, Zamboanga City;  Davao del Norte State College, New Visayas, Panabo, Davao del Norte;  Mindanao State University (MSU),  Maguindanao;  and Cagayan State University, Tuguegarao, Cagayan participated in the three-day undertaking. These SUCs were from identified local government units with riverine biodiversity hotspots, areas that are rich with endangered and endemic species and are at high risk for destruction.
Faculty members of the Institute gave a series of lectures and hands-on laboratory activities to the participants. 
The lectures were held on the first day. The following were the topics and resource persons: 1.) Molecular Phylogenetic Techniques Application in Biodiversity and Species Differentiation by Asst. Prof. Dr.  Carmelo Del S. Castillo; 2.) Basic Principles and Techniques in Molecular Biology Applied in Biodiversity by Asso. Prof. Dr. Victor Marco Emmanuel N.Ferriols; 3.) Applied Morphometric and Meristic Techniques in Fish Diversity Evaluation by Mr. Vince Neil B. Fuertes  and Ms. Kyle Iris C. Touzo; and 4.) DNA Barcoding Applied in Evaluation of Marine Fishes in Panay Island by IA director Prof. Dr. Rex Ferdinand M. Traifalgar. 
Meanwhile, hands-on laboratory activities on basic molecular techniques were conducted on the second and third day. These laboratory exercises included sample preparation and DNA extraction, Polymerase Chain Reaction (PCR) analysis, gel electrophoresis and visualization of PCR products, processing of PCR samples for sequencing, and processing of DNA sequences, species identification and phylogeny construction.  (With sources from CFOS-IA)