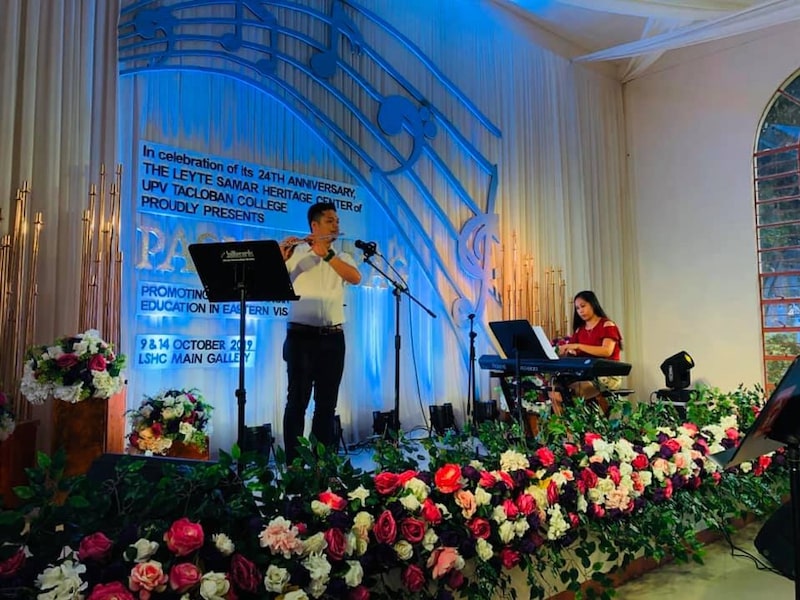 Tacloban City—three young musical artists, whose families are rooted in Eastern Visayas, shared their respective talents and skills during the Leyte Samar Heritage Center's (LSHC) 24th Anniversary presentation entitled, "Pasundayag: Promoting and Enhancing Cultural Education in Eastern Visayas." These musical artists include Miss Mary Jeane V. Egloso, an alumna of the internationally-acclaimed Philippine Madrigal Singers, Mr. John Raymond V. Sarreal, a multi-awarded and world class flutist, and Miss Chariss Dumlao, a Tacloban-born pianist who continues to pursue a successful professional career in Europe.
Pasundayag is a lecture/mini-concert series, which is designed to inspire, deepen and advance audience's appreciation and understanding of music in general, and Philippine music, in particular. Miss Egloso, who also serves as the choir master of the Sinirangan Chamber Singers — a community-based choir in Tacloban City, shared her knowledge and expertise by way of the lecture/concert, entitled "Nature, Elements and Requisites of a Choral Performance" last October 9, 2019 at LSHC Main Hall. On October 14, 2019, Mr. John Raymond V. Sarreal, a cum laude graduate in flute performance of the UP College of Music, shared his expertise and musical experiences to aspiring young musicians and music enthusiasts through a lecture/concert presentation entitled, "Nature, Elements, and Requisites of a Flute Performance." His presentation was followed by Miss Dumlao's lecture/concert entitled "Nature, Elements, and Requisites of a Piano Performance".
It is hoped that Pasundayag served as a meaningful and important vehicle in asserting Philippine culture and identity. It is hoped further that through Pasundayag, the LSHC will become the home of various Filipino artists in the presentation of their distinct works in Eastern Visayas.
Pasundayag is the Binisayà or Leneyte-Samarnon term for an artistic performance, which can either be musical, visual, theatrical or literary. It is a word that encapsulates the culture and identity of Eastern Visayas through the presentation of its varied art forms.  
Pasundayag was made possible with the support of the University of the Philippines Visayas Tacloban College.