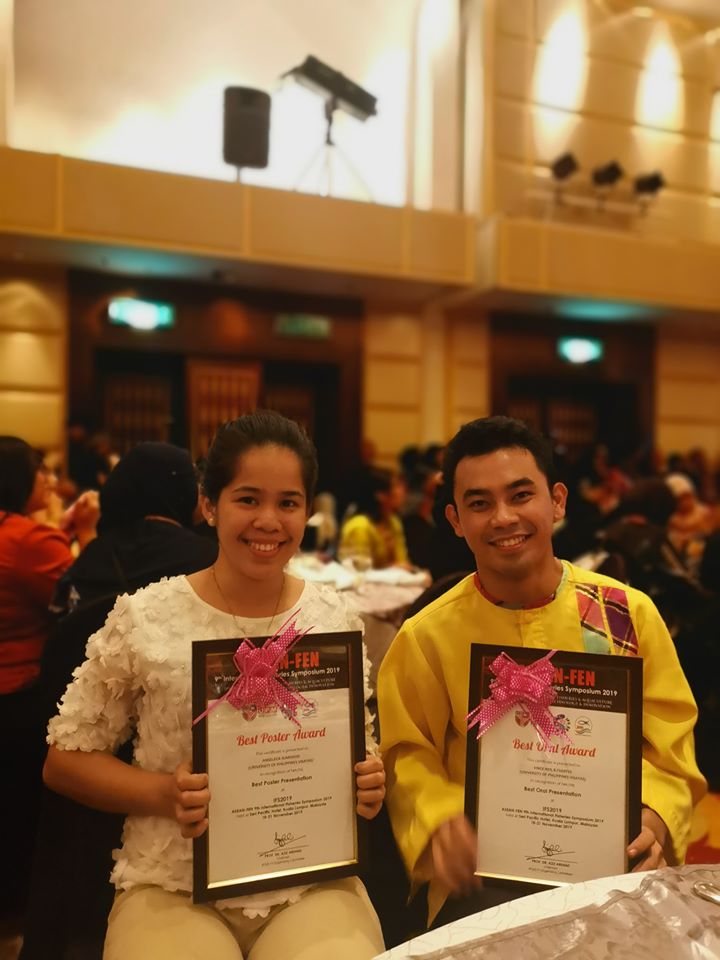 UP Visayas (UPV) participated in the 9th ASEAN-FEN International Fisheries Symposium 2019 (IFS 2019) held on November 18-21, 2019 at Seri Pacific Hotel, Kuala Lumpur, Malaysia.
Led by Prof. Encarnacion Emilia S. Yap, dean of the College of Fisheries and Ocean Sciences (CFOS), UPV has a total of 24 participants, 22 of which were from the CFOS and two were from the College of Arts and Sciences (CAS).
Dean Yap was one of the judges for Postharvest, Fish Product and Food Safety poster session of said conference.
UPV got two of the six awards in this international symposium that was participated by 36 universities in Asia. The papers of Mr. Vince Neil Fuertes and Ms. Angeleca Sumogod, all of CFOS, won the Best Oral Presentation and Best Poster Presentation, respectively.
Fuertes presented his paper entitled "Distribution and utilization of the emerging invasive mussel species, Mytella charruana, in the Philippines."
Fuertes said the study, which he co-authored with Prof. Harold Monteclaro and Rochelle A. De Los Reyes, investigates the occurrence of an invasive mussel species that was reported in the Philippines in 2014 and was a threat to the oyster and green mussel culture in the country. Through interviews and surveys among local fishers, mussel and oyster growers, and local fishery officials, Mytella charruana, now locally called bahung, was found to be established in the northern and western regions of Luzon. Despite showing competitive advantage with the green mussels, oysters, and other native bivalve species, various utilization of M. charruana were found, especially in non-traditional culture sites, wherein the occurrence of this species has provided food and livelihood opportunities to the communities.
Meanwhile, Sumogod presented the findings of her study on the "Extraction and purification of hyaluronic acid (HA) from yellow fin tuna (Thunnus albacares) eyeball."
Considering the Hyaluronic acid (HA) has been extracted from either higher vertebrates or bacterial sources, Sumogod said that the results of the study may open a new opportunity to more cost-effective production of a valuable bioactive compound from marine resources such as those from yellow fin tuna eyeballs. She added that the research findings are expected to help maximize the benefits of the utilization of the tuna processing wastes in the country.
This recent feat is the second for Sumogod to win an international award. Her paper was cited as Best Research Presentation in the poster category (graduate level) during the 12th Asian Fisheries and Aquaculture Forum (AFAF) held in the Iloilo Convention Center, Iloilo City on April 8-12, 2019.
"Being one of the best poster presenters was totally unexpected on my part simply because there are many participating researches. Also, I am thankful to Dean Yap, Prof. Mae Grace Nillos, Prof. Loda Nacional and Ma'am Caingit, my expert mentors for this new achievement," Sumogod stated about her success.
An annual academic symposium under the auspices of ASEAN Fisheries Education Network (ASEAN-FEN), IFS a gathering for participants to share and gain knowledge on topics such as Nutrition and Feed, Aquatic Animal Health, Information technology and Engineering, Genetics and Biotechnology, Fisheries Biology and Resource Management, Postharvest, Fish Products and Food Safety, Broodstock culture, larviculture and hatchery management, Algae and Aquatic Plants, among others.
IFS 2019 was organized and hosted by Universiti Putra Malaysia. The next IFS will be held in Vietnam.