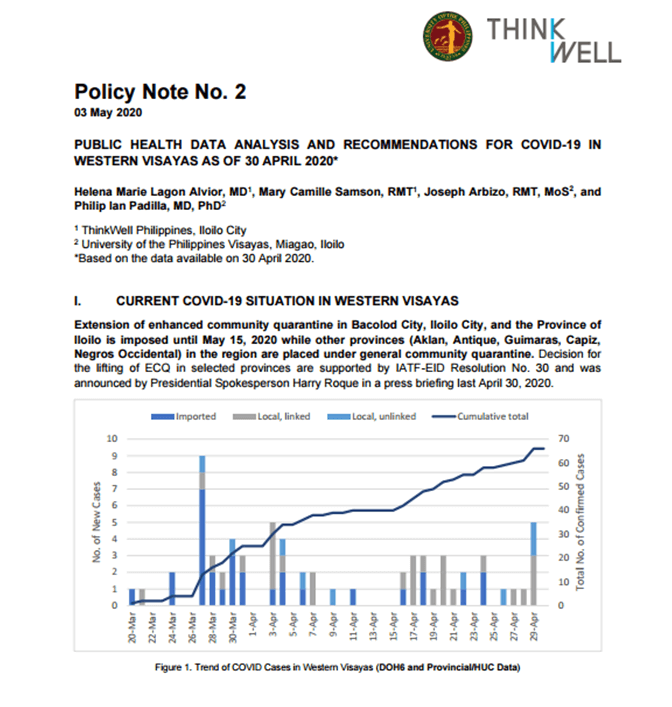 Dr. Philip Ian Padilla with his UP Visayas team of Public Health experts and ThinkWell Philippines are optimistic that Western Visayas can transition with caution to General Community Quarantine based on the Policy Note No. 2 (Public Health Data Analysis and Recommendations for Western Visayas as of April 30, 2020) they have issued.
The analysis and recommendations of Dr. Elena Marie Lagon Alvior, Mary Camille Samson, Joseph Arbizo and Dr. Philip Ian Padilla were discussed in an interview on Akyon Radyo Iloilo on May 9, 2020.
The R naught or reproductive rate - how fast the virus can infect  for WV has been computed at 0.99 which means that the reproductive rate of the SARS-Coronavirus 2 has decreased.
By looking at the progression of the number of cases (average of 4-12 every week), as of April 30, a deceleration rate can already be observed mostly in the provinces of Aklan, Capiz and Guimaras and Bacolod City. COVID 19 cases in Iloilo City and the Province of Iloilo including those in Antique are transitioning from accelerated to decelerated phases.
According to Dr. Padilla higher cases are expected to be higher in Iloilo City and Province as entry areas of repatriates; however, quarantine measures for returning residents have been put in place.
The Public Health data showed that the COVID 19–related occupancy in hospitals and other treatment facilities in Western Visayas are still low at eleven percent (11%). With these findings, in order to keep the figures low and to further flatten the curve, Dr. Padilla and his team recommend that proper coordination of local government units (LGUs) with their provincial Inter Agency Task Force (IATF), aggressive treatment and selective ECQ of hotspots or areas with positive cases should be done.
Dr. Padilla made clear that with only an average of 300-400 COVID 19 testing a day being done in the region by the Western Visayas Medical Center sub-national testing laboratory, the current as well as the succeeding data have to be analyzed further in the coming weeks. RO together with the incidence rates needs to be revisited and repatriated Overseas Foreign Workers (OFW) health data need to be factored in.