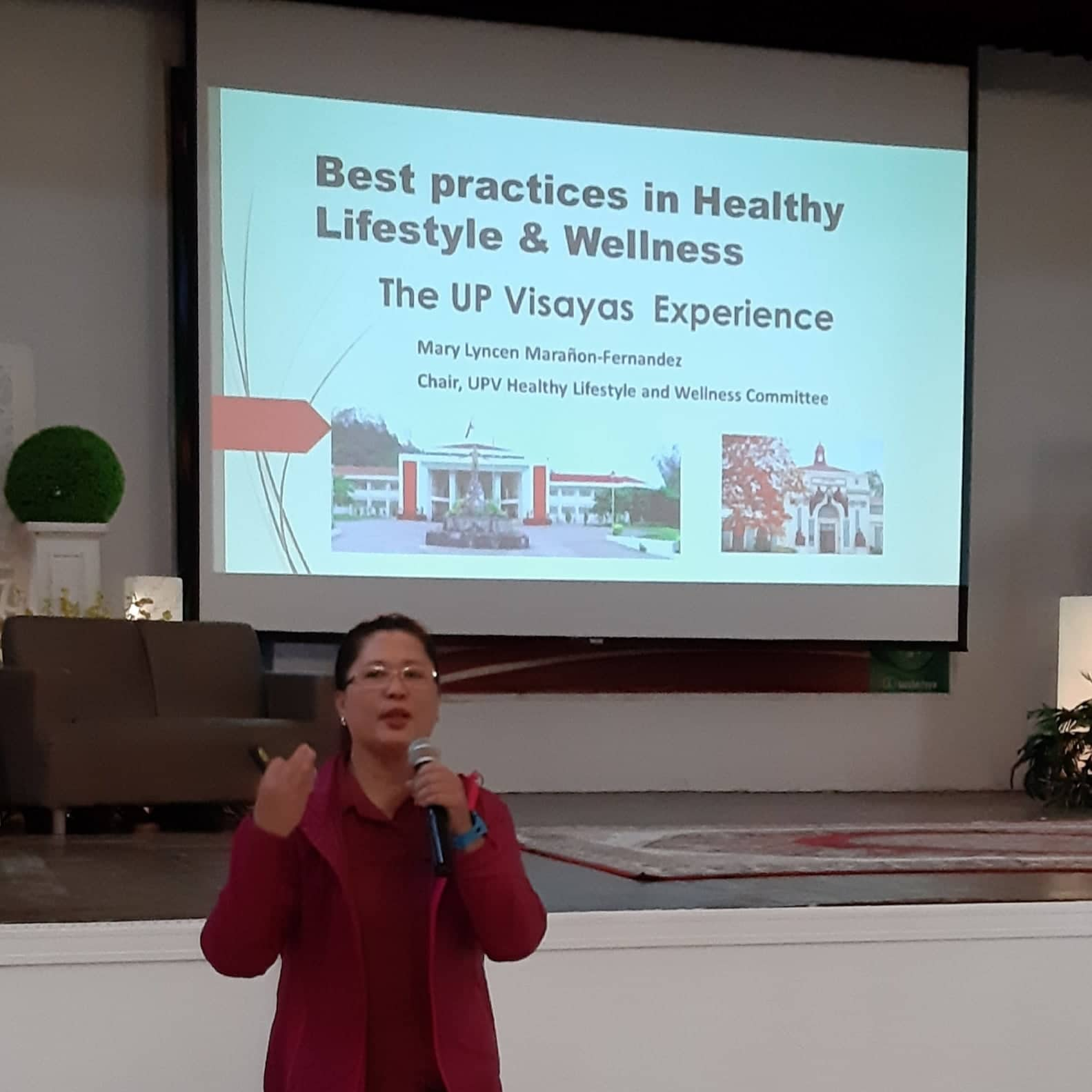 The UP Visayas Healthy Lifestyle and Wellness Committee (UPV WellComm) was invited by the Department of Health Region VI to present the UPV Healthy Lifestyle and Wellness Program of the University during the Healthy Lifestyle Summit. The summit was held on July 16-19 at Punta Villa Resort, Arevalo, Iloilo City.
UPV WellComm Chair, Mary Lyncen Fernandez, presented the program to over 200 plus participants of the summit. They are health care providers of the various LGUS in Iloilo City and in the provinces of Iloilo, Aklan, Antique, Capiz, Guimaras and from Bacolod City. Fernandez briefly shared how the program was initiated by the UP Diliman, College of Human Kinetics led by Prof. Gilda Uy. From the UP System level, it was instituted at the various UP constituent universities.
UPV created its own Committee in 2014 and launched the program in the UPV Tacloban College in 2017. It and has been coming up with various events that combine physical activities, lectures, mental health awareness and the likes for the faculty and staff. To date, UPV is the only CU that has sustained the program.
Among others, the summit discussed updates on 1) organ transplant and donation, 2) renal diseases prevention, 3) voluntary blood donation, 3) drug abuse, prevention and treatment/rehab of drug users, 4) the rise of e-cigarettes and the danger they pose, 5) diabetic foot screening, 6) thyroid screening and goiter awareness, 7) government programs for assistance on cancer, diabetic treatment, and 8) geriatric care.
The committee members who attended the summit are: Professors Brenda Lyn Arroyo, Catherine Aniceta and Cris Rogador; and the following staff: Mary Lyncen Fernandez, Teresa Hortillo, Rose Flame, Melinda Sasana, Lenilyn Gallos and Nica Molo. (Source: UPV WellComm)