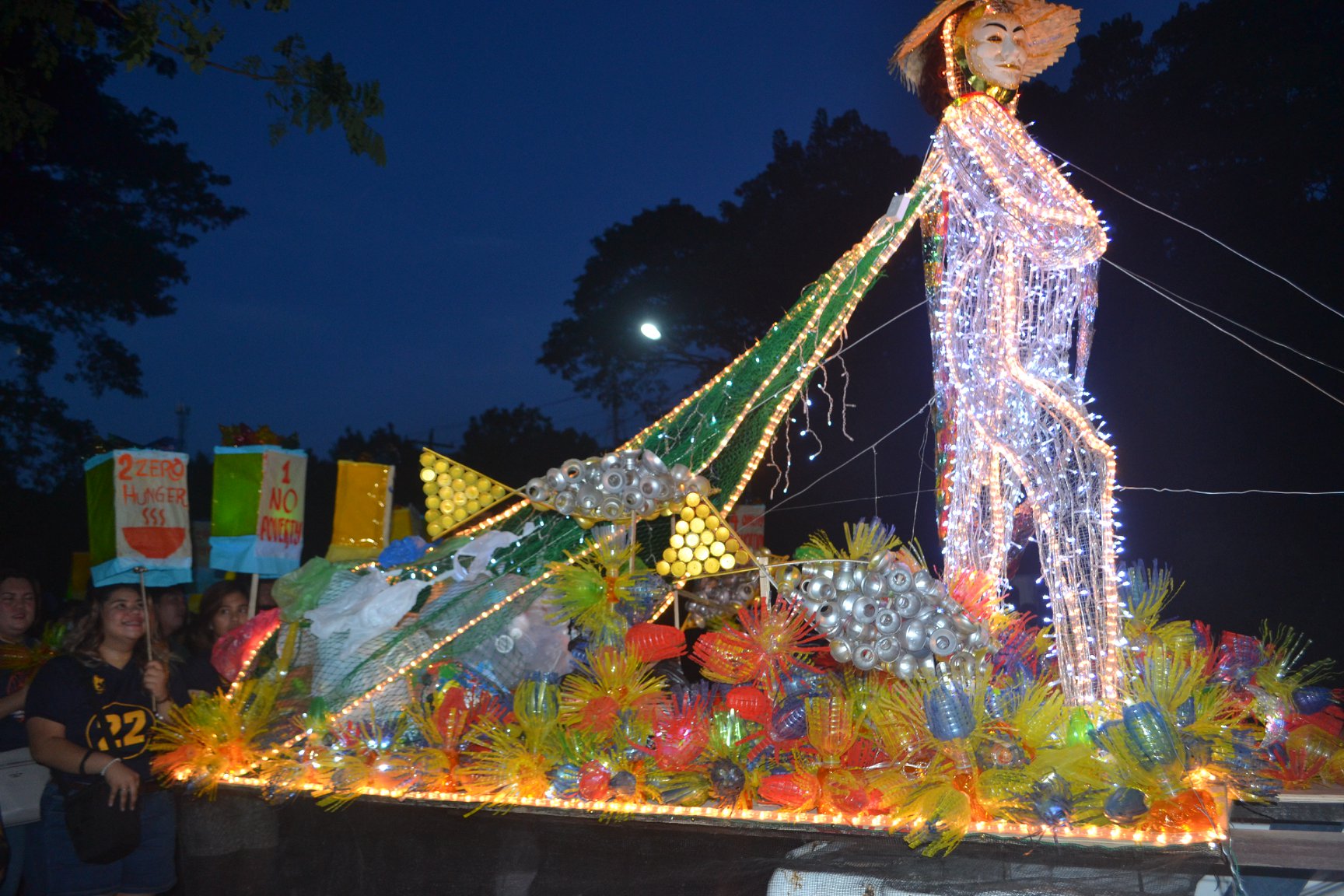 A lot of thought and effort were put into the making of the big lantern of the College of Fisheries and Ocean Sciences (CFOS) that won first place during UP Visayas' Lantern Parade on December 11, 2019.
The lantern was made from recyclable and reusable materials taken from things that pollute the seas such as plastic bottles and discarded fishing nets. The lantern loudly proclaims the advocacy of CFOS to save the seas.
Other winners of the big lantern contest were: the College of Arts and Sciences (CAS), 2nd place, and the Central Administration, 3rd place.
CAS also won in the handheld lantern contest while the School of Technology won for both the parade performance and welcome cheer.
UPV's 2019 PASKUA celebration started on December 4 with the Team Building Day of the Non-Teaching Staff and the simultaneous opening of lights in the Miagao and Iloilo City campuses on December 6.  The highlight of events on December 11 took place in Miagao and started with a walkathon in costume dubbed, "Walk with Fame," a Liturgical Service in the afternoon, followed by the lantern parade and Christmas program. The Christmas Party for the Children of UPV employees will be held on December 18, 2019. UP Visayas will also close the rest of December to allow the employees to enjoy the season with their families and loved ones. Regular office operations will resume in January next year.
The Lantern Parade is an annual tradition in all of UP's constituent campuses. It is a send-off of well wishes to the community before the holidays.
Lantern Parade and Christmas Program: https://www.facebook.com/U.P.Visayas.Official/posts/1436783693127565
Walk with Fame: https://www.facebook.com/U.P.Visayas.Official/posts/1435775599895041?__tn__=-R
Team Building Day: https://www.facebook.com/U.P.Visayas.Official/posts/1428340283971906?__tn__=-R