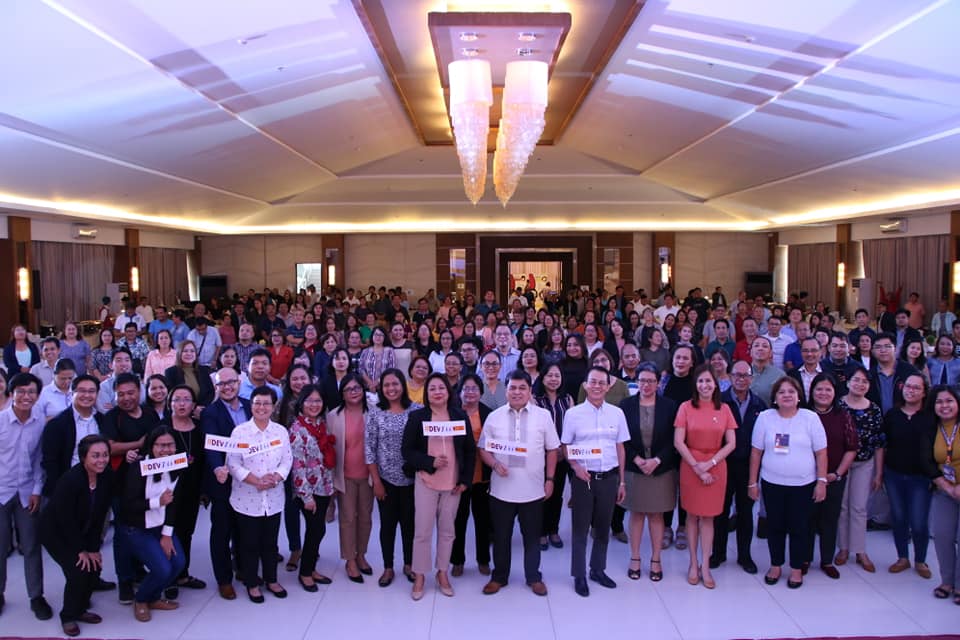 Close to 400 people gathered to participate in the DEVTALK 2019: Ideas Forum on Local Development Planning at Diversion21 Hotel on October 31, 2019. Organized by the Office of Continuing Education and Pahinungod of UP Visayas, in partnership with DILG Region 6, Support for the Local Governance Program (SLGP) and Local Governance Regional Resource Center VI, the DEVTALK 2019 is a celebration to highlight the partnerships of DILG, State Universities and Colleges (SUCs) and Local Government Units (LGUs) to enhance local development planning in the Philippines. DEVTALK 2019 is also an activity to cap off the 28th Local Government Code Anniversary celebration.
DILG Assistant Secretary for Plans and Programs Francisco R. Cruz and Region 6 Director Ariel O. Iglesia were invited to share their expertise and knowledge on local development planning.
"Proper and inclusive planning for all sectors are considered and barangay concerns are properly integrated," said Director Iglesia. Assistant Secretary Cruz reiterated that the pursuit of development, whether national or local in nature, requires the involvement of all sectors and members of the society.
Director Anna Liza F. Bonagua of Bureau of Local Government Development (BLGD) talked about the importance of Community-based Monitoring System (CBMS) and capacity building in in creating policies, projects and programs for genuine and sustainable local development.
Mr. Joel Lasam of Merriam College talked about the Trends, Opportunities and New Complexities in Local Development Planning.
Dr. Hussein Lisadan, Dean of School of Urban and Regional Planning (SURP) of UP Diliman talked about Critical Transport Infrastructure as the Key to Development and Transport Planning and its importance in resilient development planning. Dr. Lisadan emphasized the importance of capacitating SUCs of the country so they can assist the Local Government Units (LGUs) in development planning activities like the formulation of CDP and CLUP.
The event was participated in by DILG Officials, Mayors and their Municipal Planning Teams, DILG Cluster Heads and Focal Persons, Municipal Local Government Operations Officers (MLGOOs) and Local Resource Institute Partners of the LGRRC from the provinces of Iloilo, Capiz, Aklan, Antique, Guimaras and Negros Occidental. Also in attendance were participants from the State Universities and Colleges (SUCs) in Region 6.
UP Visayas has been providing technical assistance in the formulation of the Comprehensive Development Plan (CDP) of DILG's 20 target LGUs. DEVTALK 2019 is also part of the series of activities conducted by UPV headed by the Office of Continuing Education and Pahinungod (OCEP) and DILG Region 6 for the "SUC-assisted approach in CDP Formulation Project" led by Dr. Rhodella A. Ibabao (Director, OCEP and Project Manager).