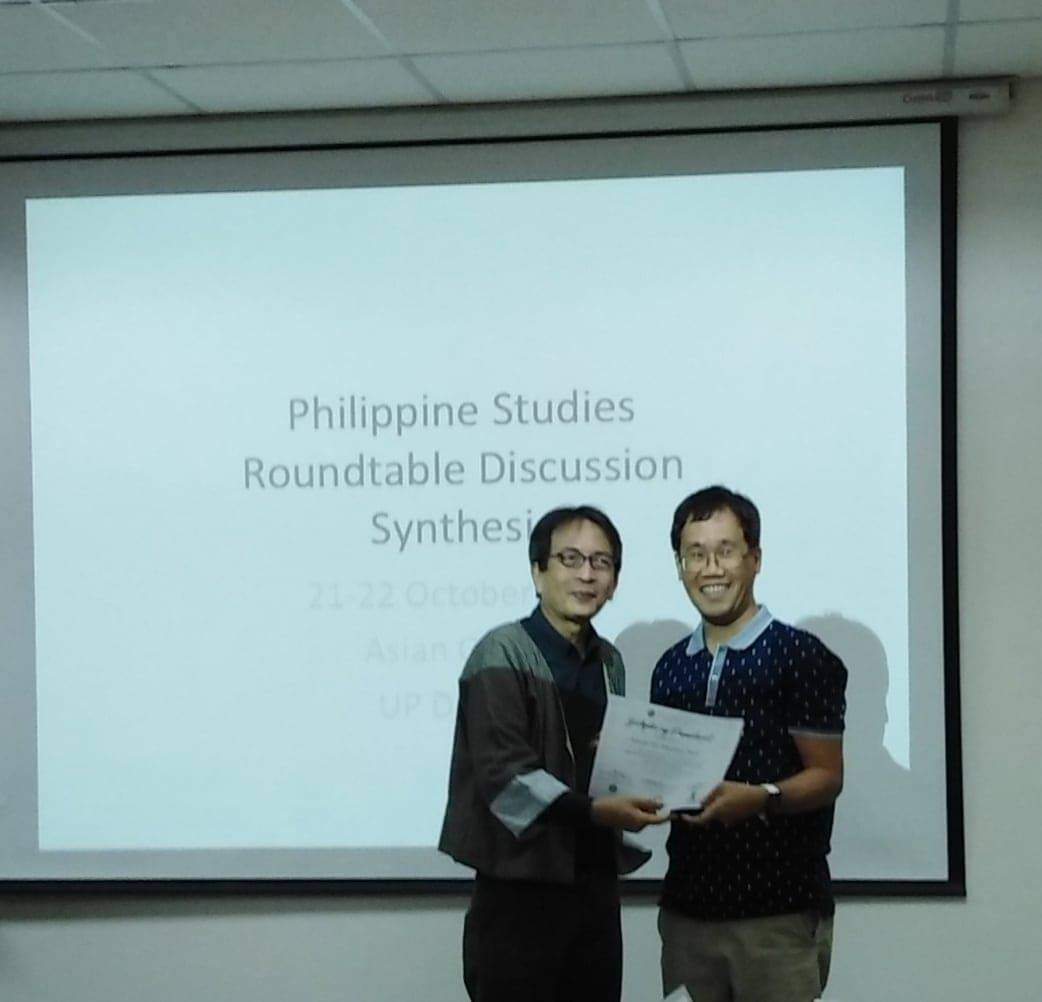 The Center for West Visayan Studies, as represented by its current director, Dr. Randy M. Madrid, participated in the first ever UP Roundtable Discussion on Philippine Studies held at Asian Center, UP Diliman on October 21-22, 2019. Collectively called Habi: Weaving through Experiences in Centering Philippine Studies in the University of the Philippines, the activity was organized by the UP Diliman Tri-College on Philippine Studies consisted of College of Arts and Letters (CAL), College of Social Sciences and Philosophy (CSSP), and Asian Center (AC).
Dr. Michael L. Tan, Chancellor of UP Diliman served as keynote speaker of the said event. He emphasized the need for collaboration among educational institutions and regional studies centers within the UP System to strengthen the relevance and significance of Philippine Studies to national and global settings. He challenged participants "to guard things that we are proud of". That is, to look into the social fabric of our culture without exoticising people and things. He also called for contextual studies of the past by locating indigenous heritage in our contemporary multi-sensorial realities. Weaving our culture is "employing interdisciplinary and trans-ethnic approaches," he intoned.
Among the regional studies centers present were Cordillera Studies Center of UP Baguio, Manila Studies Center of UP Manila, Center for West Visayan Studies of UP Visayas in Iloilo, and Leyte-Samar Heritage Center of UP Visayas in Tacloban. There were also representatives from UP Diliman Extension in Pampanga and UP Mindanao, who were also in the process of forming their own studies centers soon. UP Cebu and UP Los Banos failed to send participants in the roundtable discussion.
The two-day presentations and discussions highlighted the strengths and best practices of the UP Diliman Tri-College and regional studies centers in the promotion of Philippine Studies through pedagogy/instruction, research and public service. Issues and problems confronted by these institutions and the solutions they made were also discussed and threshed out. More so, the roundtable discussion laid down possible collaborations among regional centers on matters of mutual concern such as community resiliency and sustainability, disaster mitigation, risk reduction and climate change adaptation, IP studies, urbanization studies, and localization and contextualization in Philippine education. (With sources from Randy M. Madrid)