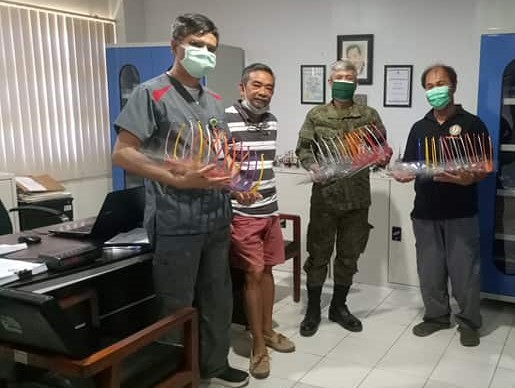 UP Visayas has started distributing 3D-printed face shields to local government units and its institutional partners in Panay and Negros since last week as part of the university's contribution to the efforts against COVID 19 pandemic.
The production of the face shields, specifically intended for front liners, is a result of the initiative of UP Visayas when it turned over 1-ton (1000 kgs) of polypropylene (PP) raw material to Engr. Fred P. Liza, Chief of the Materials and Process Research Division, and Project Leader of the Metal Industry Research and Development Center (MIRDC) Advanced Manufacturing Center (AMCen) under the Department of Science and Technology. The PP was donated to UPV by the Philippine Fishing Gear Industries, Inc. The plastic injection mold to fabricate the face shields was developed by the DOST-MIRDC.
As part of its UP, Magbubunga Tayo! platform, UP Visayas Chancellor Ricardo Babaran initially considered mass production of face shields with Omnifab, Inc. But the company already had a partnership with MIRDC to manufacture the same for front liners throughout the country. Instead, UPV's assistance in sourcing 1-ton of polypropylene (PP), the raw material for producing the molds for the face shields, was suggested. Frabelle Fishing Corporation facilitated discussions between UPV and Philippine Fishing Gear Industries, Inc. that led to the donation, which is expected to produce at least 25,000 pieces of face shields frame, part of which will be packaged and distributed by DOST-MIRDC to hospitals and other  agencies.
5,000 of the face shields produced by MIRDC from the donated raw material are earmarked to be shared with UPV. Of these, 300 pieces were allotted for Antique, 500 for Capiz, 500 for Negros Occidental, 1,000 for Eastern Visayas through UPV Tacloban College, 500 for Aklan, 150 for Guimaras.
Frabelle Fishing Corp and Philippine Fishing Gear Industries, Inc. will each be given face shields, too. The rest will be distributed by UPV to its other partners including its own front liners. 
Immediately after the face shields arrived, officials of UPV led by Chancellor Babaran personally turned over to Iloilo City Mayor Jerry Treñas and Iloilo Governor Arthur Defensor, Jr. as well as to the officials and representatives  of towns in the 1st Congressional District of Iloilo their share of the face shields.
LIBCAP Super Express transported the face shields from Metro Manila to Iloilo at a discounted fee.
The mass production and distribution of the face shields is hampered by the lack of materials for the clear acetate sheets. President Danilo Concepcion expressed support for soliciting donations from various institutional partners of UP.
The island of Panay is currently included in the High Risk areas for COVID 19 and will remain under ECQ until May 15. UPV continues to actively engage its personnel and harness its laboratory equipment and institutional linkages in the local inter-agency initiatives to address the health crisis.