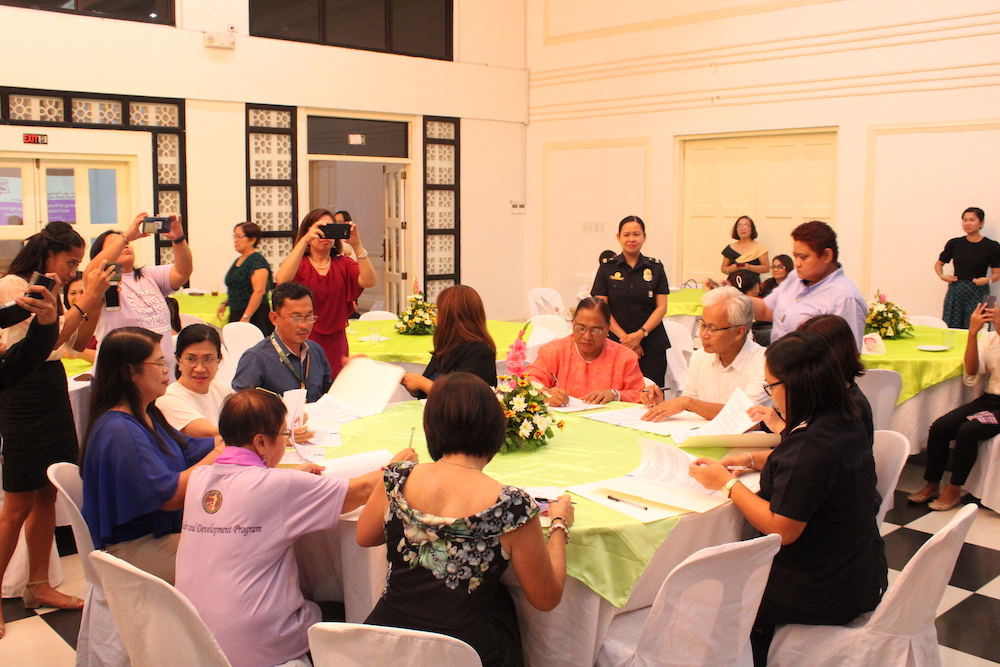 Member organizations and institutions of the Ugsad Regional Gender Resource Center signed a partnership agreement as the highlight of its 20th year anniversary at the Casa Real de Iloilo on July 26, 2019.
Ugsad was established in 1999 as the Regional Gender Resource Center in Western Visayas. It serves as a coordinating body of efforts and resources providing gender-responsive services in national government agencies, non-government organizations, local government units, academic institutions and other entities.
A series of activities were prepared to commemorate the celebration that carried the theme, "Padayon nga Paghugpong: Advocating for a Gender-Responsive Region VI."
An ecumenical service at Jaro Plaza led by Pastor Maria Fe Dequito, missionary of the Asian Center for Missions opened the week-long activities. The rite was followed by a caravan around Iloilo City that led to the UP Visayas Auditorium for a forum entitled, "The Status of Gender Mainstreaming in the Philippines" by Dr. Rhodora M. Bucoy, Chair of the Board of the Philippine Commission on Women.
A forum entitled, "Gender and Mental Health" by Prof. Rameses de Jesus, the Director of the University of the Philippines Open University (UPOU) Office of Gender Concerns was conducted at the Educational Technology Center of the Iloilo Science and Technology University-Lapaz (ISAT U) on July 25. On July 26, an exhibit featuring the Ugsad member institutions' GAD activities was launched at the Robinson's Mall in Jaro, Iloilo City.
The weeklong celebration was be capped off by the signing of the partnership agreement and a celebratory dinner on July 26.
"The past 20 years have seen many public fora organized by Ugsad. We hope these made an impact to individuals and institutions. We also hope that we remain consistent in our desire to be updated and actively engaged in mainstreaming gender advocacies in the region," said Regional Coordinator Dr. Mary Barby Badayos-Jover when asked about ways forward for Ugsad.
Presently, Ugsad has a total of 55 member organizations and institutions that spearheads gender mainstreaming programs and projects in Western Visayas.