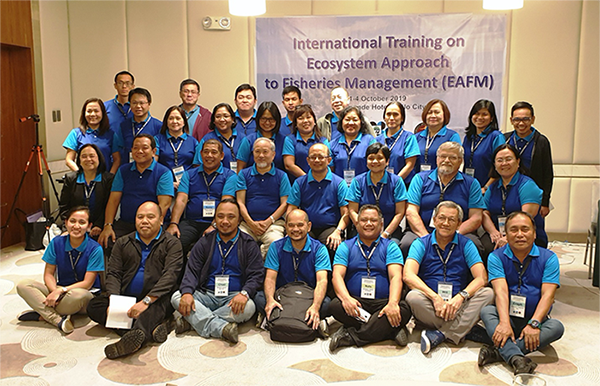 Experts in the field of fisheries gathered in Iloilo City for an international training on Ecosystem Approach on Fisheries Management (EAFM), a relevant platform to address many challenges besetting the fisheries sector.
Organized by the Food and Fertilizer Technology Center (FFTC) for Asian and Pacific Region in partnership with the Philippine Council for Agriculture, Aquatic and Natural Resources Research and Development –Department of Science and Technology (DOST-PCAARRD) and the University of the Philippines Visayas (UPV), the three-day training convened academicians, researchers, scientists and fisheries managers to equip them on the principles of EAFM that will support decision-making towards responsible and sustainable fisheries.
Held on October 1-3, 2019, the training course was attended by 18 fisheries experts from Thailand, Taiwan, Cambodia and local participants from various state universities and colleges (SUCs) from seven regions in the country.
EAFM is designed for those responsible for promotion/administering capacity development activities and fisheries and marine environment policies in the areas of concern.  The primary aim of the training was for the participants to apply the principles of the EAFM with effective approaches to better manage the resources in their respective regions or areas of concern.
The training had 17 modules. These included among others the threats and issues in fisheries; fisheries management and the ecosystem approach; principles and fundamentals of EAFM; EAFM process; link between policy and action; design/ implementation; constraints and opportunities; and management actions and compliance. 
In order to meet the course objectives, the participants engaged in various activities that examined and deliberated important issues on EAFM.  They formulated and presented their individual action plan at the end of the training course.
FFTC director Kuo-Ching Lin, PCAARRD executive director Dr. Reynaldo V.  Ebora, UPV chancellor Prof. Ricardo P. Babaran, PCAARRD deputy executive Dr. Edwin C. Villar, Manila Economic and Cultural Office (MECO) board of director Mr. Cesar M. Drilon, Jr., and DOST-6 regional director Rowen R. Gelonga graced the event.