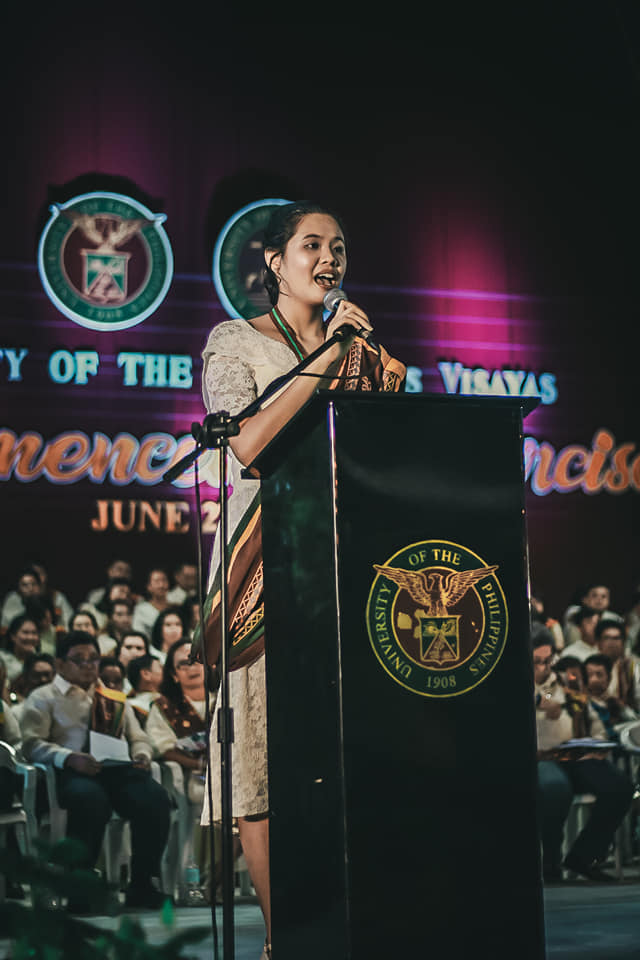 "UP is every student's dream school…we are given quality education in which we excel in academics as well as trained to be involved in the matters of society; …we exposed ourselves to different issues and problems of society not because we want to get attention but we seek to help address these and become part of the solution."
So says Amethyl Mardin Pernito, valedictorian of Class 2019, during her speech at the UP Visayas 40th Commencement Exercises held on June 27, 2019, Miagao campus. Pernito, a BS Fisheries major, earned the highest GWA (1.277, magna cum laude) from among her peers.
This year, UPV had a total of 1,097 graduates from its five colleges – Fisheries and Ocean Sciences, Arts and Sciences, Management, School of Technology and the UPV Tacloban College; 935 are undergraduates while 162 are graduate students. From the undergraduates, 14 were magna cum laude, and 175 are cum laude.
As a fisheries graduate Pernito said that UP, particularly her College, has given her a profound appreciation of the archipelagic nature of our country with its diverse ecosystems that supports a wide range of species of flora and fauna.
"Our country is the center of biodiversity in the world… I am aware that the Philippines supports a great deal of diverse life forms in both the terrestrial and aquatic systems," she pointed out.
Pernito admits that economic progress as well as technology and industrial advances put our natural resources at risk. She said she wanted to help in informing people about the importance of having a balance between harvesting from and preserving nature.
She hopes that there will be more researchers, environmentalists, food producers, doctors to the barrios, public defenders and civil and public servants.
"In behalf of Class 2019, "maraming salamat UP. Handa na kaming maging Iskolar para sa Bayan," she said at the end of her speech. (With sources from Amethyl Mardin Pernito)