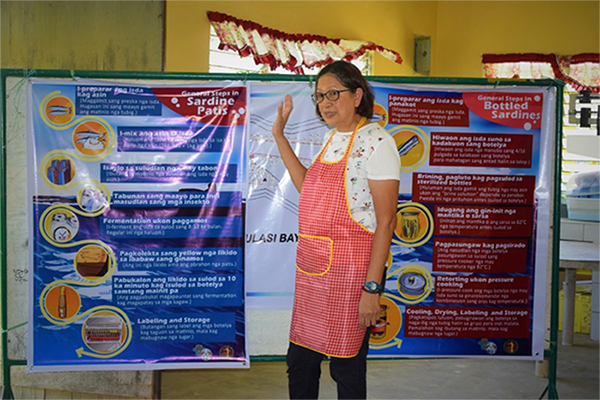 In preparation of the impending closed fishing season for sardines this year, the College of Fisheries and Ocean Sciences (CFOS), UP Visayas (UPV) conducted a capacity-building training on fish post-harvest processing and value addition of sardines (tabagak) to fisher folks of Nasidman, Ajuy, Iloilo (about 88 kilometers north of Iloilo City).
CFOS dean and professor of post-harvest fisheries Prof. Encarnacion Emilia S. Yap led a team that organized and conducted the "Training on Basic Sardine Processing" on October 7-9, 2019 in Nasidman, an island barangay where in majority of the residents are subsistence fishers. Fish trading and fish drying are among the sources of their livelihood.
The activity was a form of intervention for an alternative livelihood of the locals with the enforcement of the three-month closed fishing season in November this year until February  2019, said Yap.
It was aimed to train the fishers including the women on the different value-adding techniques to increase the value of sardines and enable the fishermen get better price from the market.
The locals were introduced to some of the basic value-addition processing such as making sardine hamonado, sardine lamayo, sardine patis, and bottled sardines. 
The skills training was part of the research project on Value Chain Analysis of the Philippine Sardine Industry spearheaded by Yap funded by the Department of Agriculture-Bureau of Agricultural Research (DA-BAR) under the under the National Technology Commercialization Program. 
Other members of the project team are Prof. Harold M. Monteclaro, Ms. Ruby Napata, and Ms. Ernestina Peralta. The project research assistants are Ms. Tabitha G. Famatid, Ms. Angelea Revantad, and Mr. Whelver Surnida.