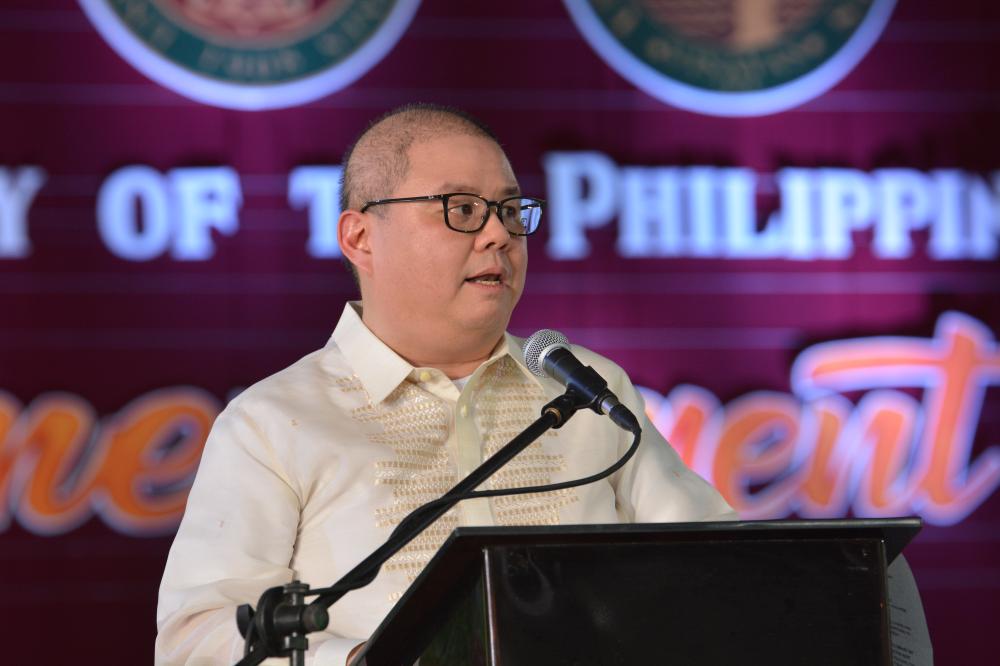 "We hope to make you realize that there is a future in fisheries, the mariculture industry, with the vast marine biodiversity in our territorial and archipelagic waters," says Francisco Tiu Laurel, Jr., commencement speaker of the 40th Commencement Exercise of UP Visayas.
Tiu couldn't be a more appropriate speaker for UPV was given the mandate in fisheries and ocean/aquatic sciences. UPV is on its way of creating a master plan for fisheries which calls to ramp the use of technology for more viable fisheries operations. The university is also involved in various engagements with other state colleges and universities and institutions to promote and strengthen the formulation of national and region-wide fisheries policies that will give relief to the dwindling fisheries resources of the country.
The President of his family-owned company, Frabelle Fishing Corporation, Tiu addressed the faculty, staff, and the Class of 2019 with over 800 graduates coming from various degree programs in the afternoon of June 27, 2019 at the covered court of the sprawling Miagao campus.
"I am proud to say that Frabelle Fishing Corporation is one of the Top 3 fishing companies in the world for the last 20 years; a 100% Filipino-owned company known and respected worldwide in the tuna industry," he pointed out.
He said that, "Frabelle is a concrete example of how a fisheries-based company operated and managed by Pinoys, can succeed and can become leaders in the fishing industry, not only in the Philippines but in the world."
The Frabelle Fishing Corporation is a 53-year-old company established in 1966 by the Tiu's father Francis who borrowed money to start the business. It started with two fishing vessels catching fish around the Cuyo Island group and Northern Palawan. It now has 150 fishing vessels of various types and sizes plying around the Philippine waters, the Western Central Pacific Ocean and in the Indian and Atlantic Ocean regions.
The company continues to grow and expand as the helm of leadership was taken over by Tiu, Jr.
"The relevance of Frabelle to UP Visayas and its graduates is to show that there are many success stories in the fisheries, aquatic and ocean sciences sector, and Frabelle is just one of them," he emphasized. (Photo source: Amber Photography)